Marie over at Make and Takes comes up with the cutest things.
She has been featured here several times, and for good reason!!
Chocolate Dipped Candy Canes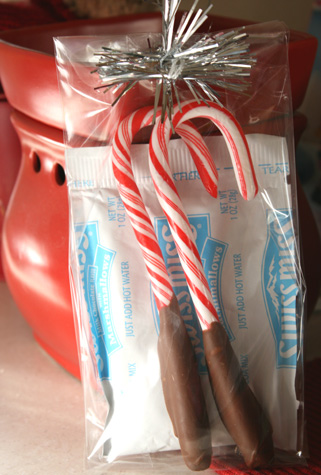 ~ Candy Canes ~ Chocolate ~ Hot Chocolate Mix ~
Melt some of your favorite chocolate. I used milk chocolate chips and melted them in the microwave for 1 minute at a time. Then dip the candy canes into the chocolate. I dipped them on both sides because I didn't know which way people may like it, but I like the tops dipped and then use the stick to stir. Lay them on wax paper to cool.

Now dip them into your favorite Hot Chocolate Drink and ENJOY!!!
MMmmmmmmm.
Doesn't that look DELISH?
{ Thank you Marie for your wonderful sweetness!! }
{{ CHECK OUT HER OTHER IDEAS HERE. }} 
~~~~
~ Bon Ap[petite] ~